In August last year I discovered this excellent post by Jack Dennis that introduced me to the well-researched investigative work of Patel Patriot (click image to read):
What is the 'Devolution' Theory and is it Trump's Reality? [Two Presidents?]
Subsequently, it became clear this theory ties in fairly closely with what prophetical voices were saying about America's politics, as posted under my Devolution tag.
Jack Dennis' introductory overview tells of President Trump's "Space Force" launching four top-secret satellites into orbit from Virginia in July 2020 (all emphases mine):
"It also gave President Trump unprecedented ability to gather intelligence with no-to-little interference from foreign entities and from various powers within the U.S. Some of this intelligence could be used to track all facets of the upcoming November elections.
"This was so secret, even Vice President Pence didn't know," a military connected source informed me. "Russia had satellites chasing one of ours staying within 100 miles on its trail. Looking back, we now understand why Pence wasn't in the loop for the most top secret activities."
Last month Patel published his own Introduction to Devolution, which summarises the major findings thus far. It is recommended reading to get a grasp of what Donald Trump, as a 'war-time president' arranged for Continuity of Government (COG) and is very likely happening behind the scenes.
In brief, here's a couple of snippets to act as pointers to the inside-story on how 2,000 'mules' were geo-tracked:
Page 17 – 'I've laid out the bulk of the devolution theory to give you an idea of the moves Trump made and how COG works. The next question to address is "what does this mean for Joe Biden?"
Even though I believe Donald Trump implemented devolution, he technically isn't President. He devolved his authority. Just based on the definition, his authority was essentially spread out amongst multiple individuals and organizations tasked with maintaining the National Essential Functions (NEF).
Joe Biden isn't technically the President either. He is virtually (and sometimes literally) just pretending. Whether the enemy knows Trump implemented devolution or not is irrelevant to me. They can't stop it because it falls completely within Trump's wartime powers.'
Page 9 – Shakeup at the DoD  'In order to pull something off like devolution, you need to have the right people in the right place at the right time….
Page 11- Ezra Cohen-Watnick – On November 11th, 2020, while already serving as the Acting Assistant Secretary of Defense for Special Operations and Low-Intensity Conflict (ASD (SO/LIC)), Ezra was promoted to fill the role of the Undersecretary of Defense for Intelligence (UDI)… serving simultaneously as the top Pentagon civilian overseeing intelligence and special operations.
On November 18th 2020, Sec Def Miller signed this memorandum designating the ASD (SO/LIC) (Ezra Cohen-Watnick) as a "principal staff assistant" which would report directly to The Secretary of Defense and Deputy Secretary of Defense meaning Ezra Cohen Watnick would now be reporting directly to Sec Def Miller instead of having to go through the bureaucracy.
Watnick was also appointed by Trump to chair the Public Interest Declassification Board in December of 2020, a position that would prove useful if you wanted to timely release previously classified information to the public. Watnick appears to be playing a major role considering the positions he was holding in the last months of Trump's presidency.'
DEVOLUTION Part 21 – 2000 MULES (click to read)
Sub-heads in this latest 47-pages in the Series are: Mail-in Fraud, 2016 Voter Fraud, Election Integrity, Surveillance, Exec Order 13848, Flight 1745, (illustrations from Space News and Dell & Oracle), Election Night (monitoring voting from new SCIF, secure room), Closing (Trump's Thanksgiving teleconference with Military).
On pages 28-9 we note this about data compiled for 2000 Mules film, and caption of accompanying image about that person – note especially final bullet point on Obama:
'It cannot be a coincidence that the supercomputer used by True the Vote is this well-connected to Oracle, a company coming more into focus as a player in Trump's ongoing plan. Remember some of what we already know of Oracle and a member of the Devolution team: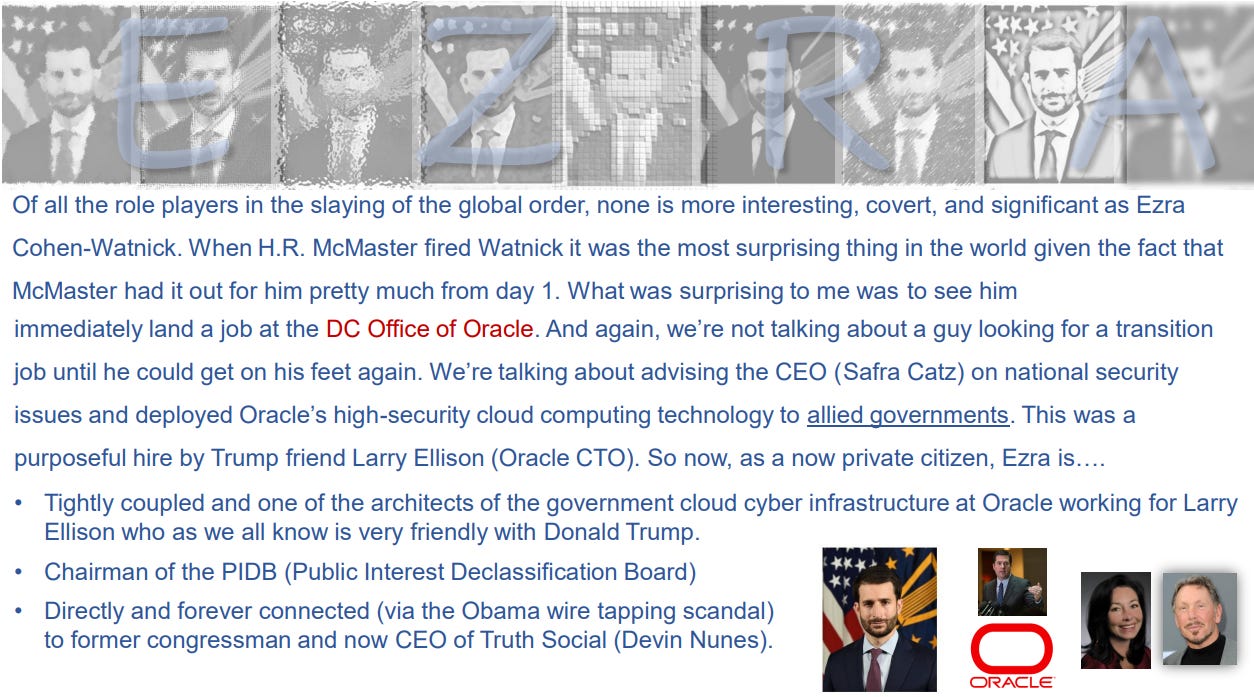 'Speculation alert – what this all leads me to believe is that the voting scheme outlined in '2000 Mules' was investigated by True the Vote with the assistance of Oracle as part of the ongoing devolution operation. Whether they had all of this stuff discovered ahead of time is a question for somebody with more technical expertise. I'm confident if our military was watching for this activity, they would have the technical capabilities to capture the operation as well. This would be in addition to what they found in the cyber realm. Remember, the election was stolen using various methods:
"Ballot Trafficking" as presented by '2000 Mules'
Vote switching through compromised machines
Major vote dumping and duplicating of ballots – when they realized the machines and ballot trafficking wouldn't be enough, they literally stopped counting on election night to mass-dump ballots and have workers such as Ruby Freeman scan the same ballots multiple times
Cover-up by the Media and our local and federal government, most notably, the RINOs at the local level
After '2000 Mules', I would say numbers 1, 3, and 4 are extremely obvious, with more and more coming out daily. The one we are waiting for and possibly most important to the devolution theory, is number 2. Expect more bombshells to come out regarding all of these. Now do we know Trump and his team were monitoring the shenanigans the night of the election?'
ALL THIS MAKES EXCEPTIONALLY FASCINATING READING. I reminisce back to my first of forty posts on 'US Election is Not over' covering William Koenig on electronic and mail-in vote manipulations. Part 8 refers to a conference on election fraud he, Sidney Powell and others had attended that Summer – AND my consequent contact with one of her under-the-radar investigators.
To read more clearly Bill's introduction and meeting with Attorney Sydney Powell go to..
US Election's NOT over: 10 – explosive exposure of fraud coming!